Our beer
Our mission is to brew superior craft beer for patrons in Seward and across Nebraska. Our beer is available at our main taproom and in hundreds of locations across the state.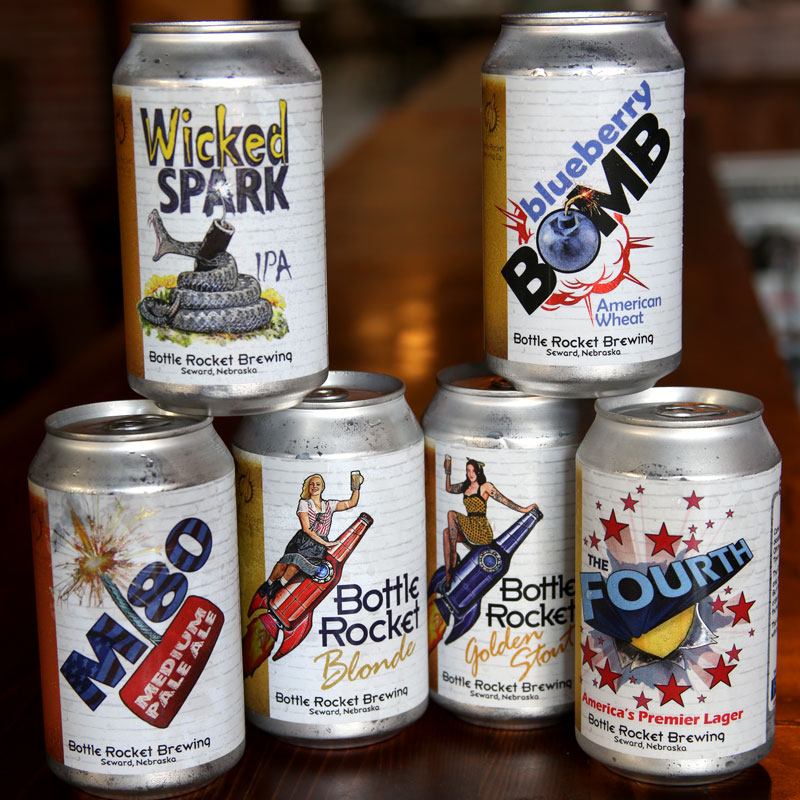 Our Beer
Our beer is considered by many to be very smooth and well-balanced. From light lagers to unique stouts, we enjoy brewing many different varieties and styles of great-tasting beer.
Below is a list of our beers that are distributed across the state of Nebraska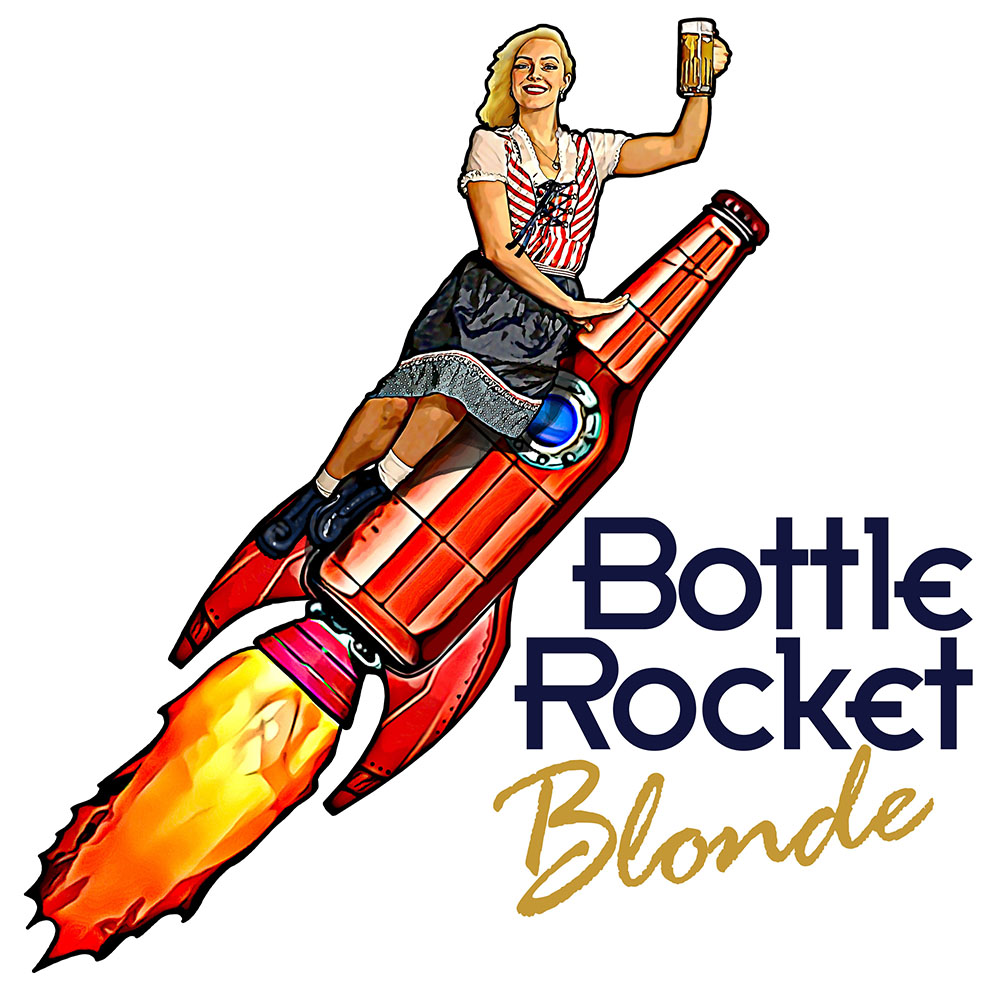 Bottle Rocket Blonde
Blonde Ale
ABV: 5.2% IBU: 20
The Blonde's malty grain sweetness, slight bitterness, and yeast blend together for a nice, crisp finish. This refreshing beer is very approachable and perfect for any occasion.
________________________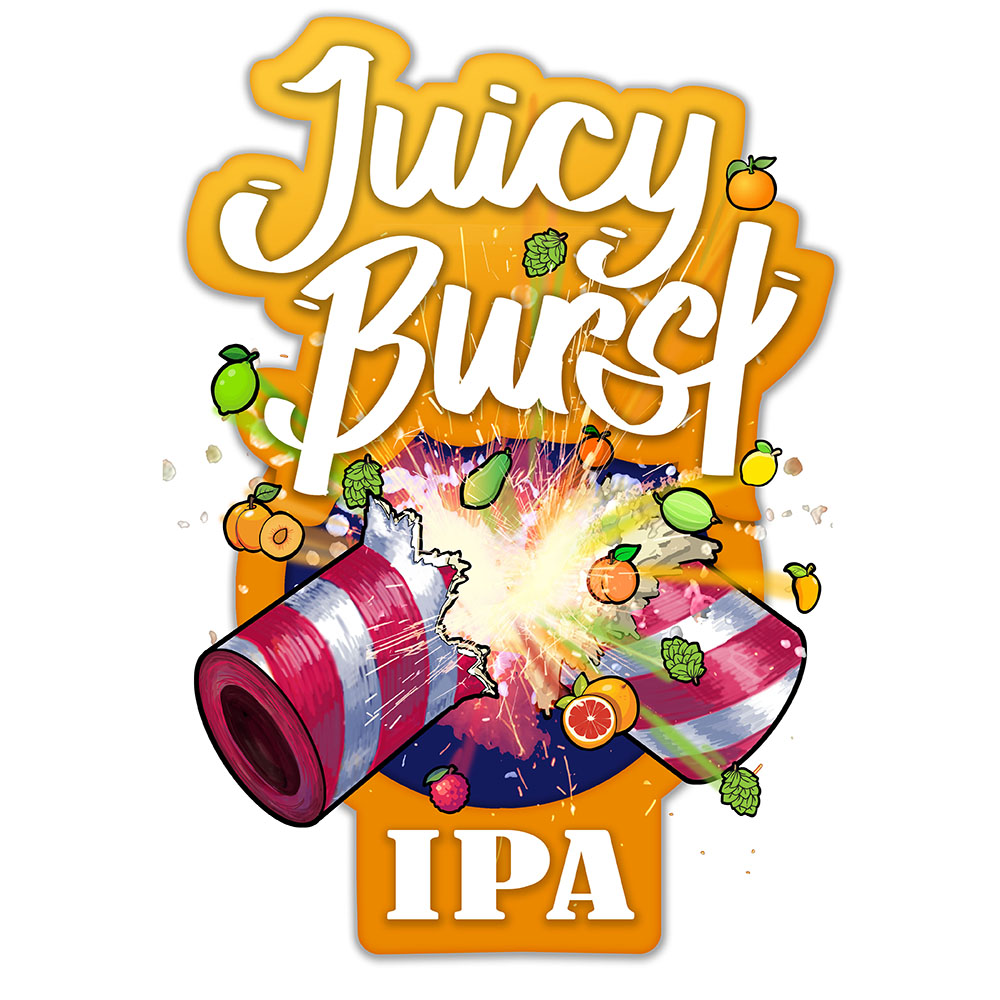 Juicy Burst IPA
Hazy IPA
ABV: 6.5% IBU: 68
This hazy IPA is bursting with juicy hop flavors and aromas. Hops added to the whirlpool and fermenter produce an array of citrusy flavors including peach, melon, apricot, orange, and mango. The combination of the malts with the addition of oats also adds a soft mouthfeel.
________________________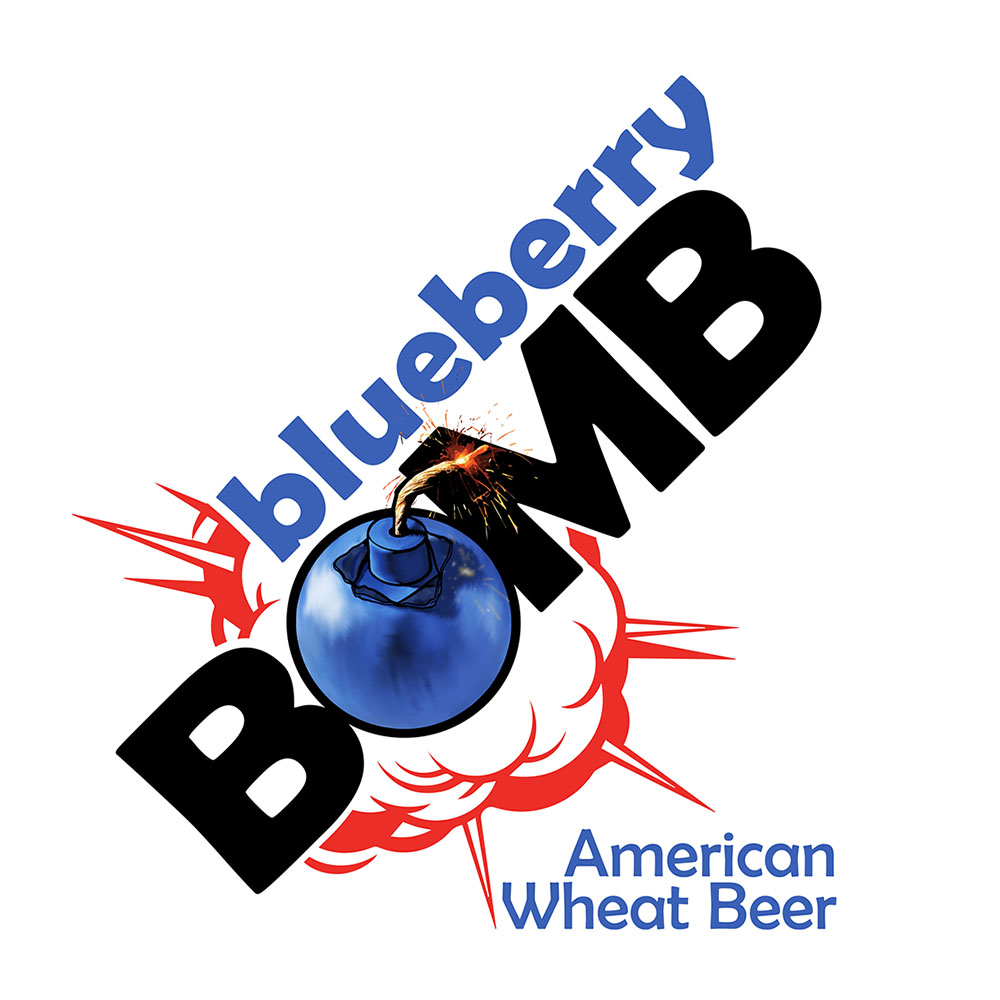 Blueberry Bomb
American Wheat
ABV: 5.9% IBU: 22
The Blueberry Bomb is light-bodied, American wheat. This wheat malt brew with blueberry flavor is uniquely refreshing. Initially released as a seasonal, the Blueberry Bomb quickly became so popular we decided to share it year-round.
________________________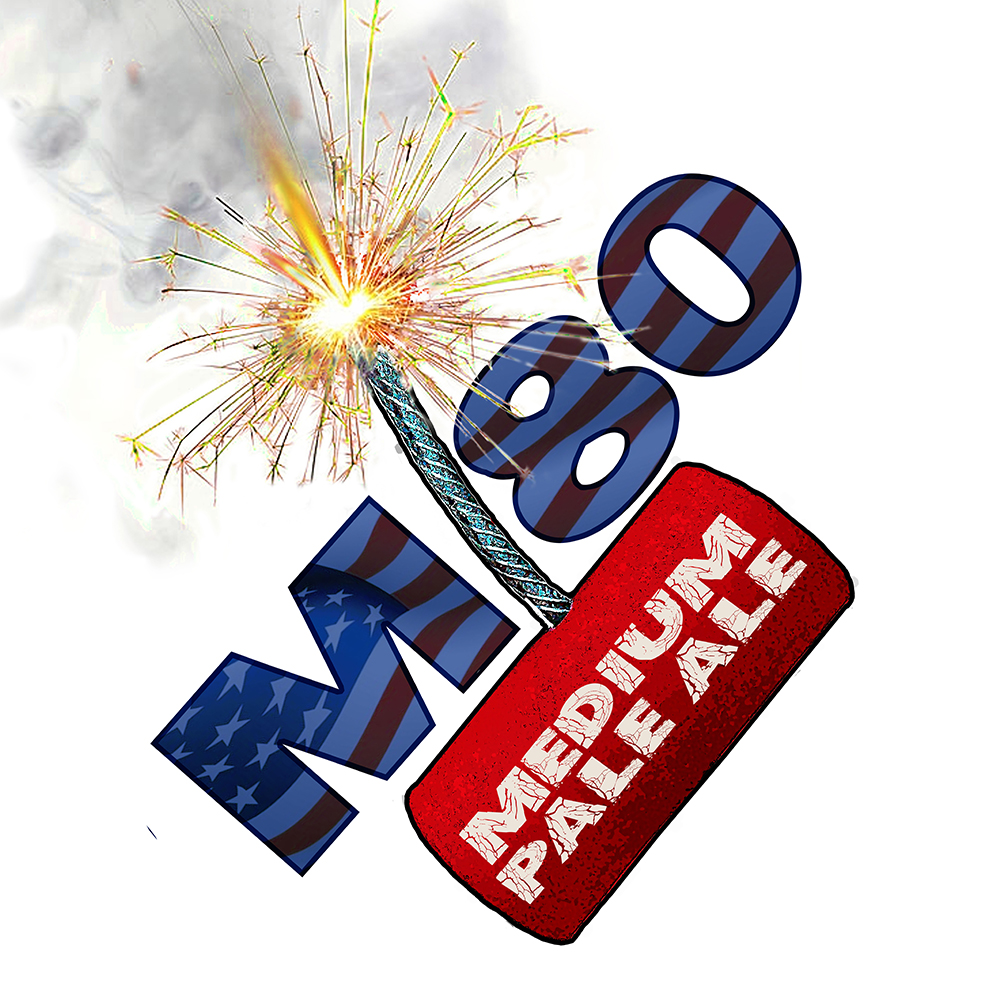 M-80
Medium Pale Ale
ABV: 5.7% IBU: 63
The M-80's rich amber color, malty sweetness, and citrusy hop bitterness are well-balanced to become a medium-bodied beer with a mouthful of flavor. Hovering between an IPA and an American Pale Ale, the M-80 introduces a new style to the beer industry, the Medium Pale Ale.
________________________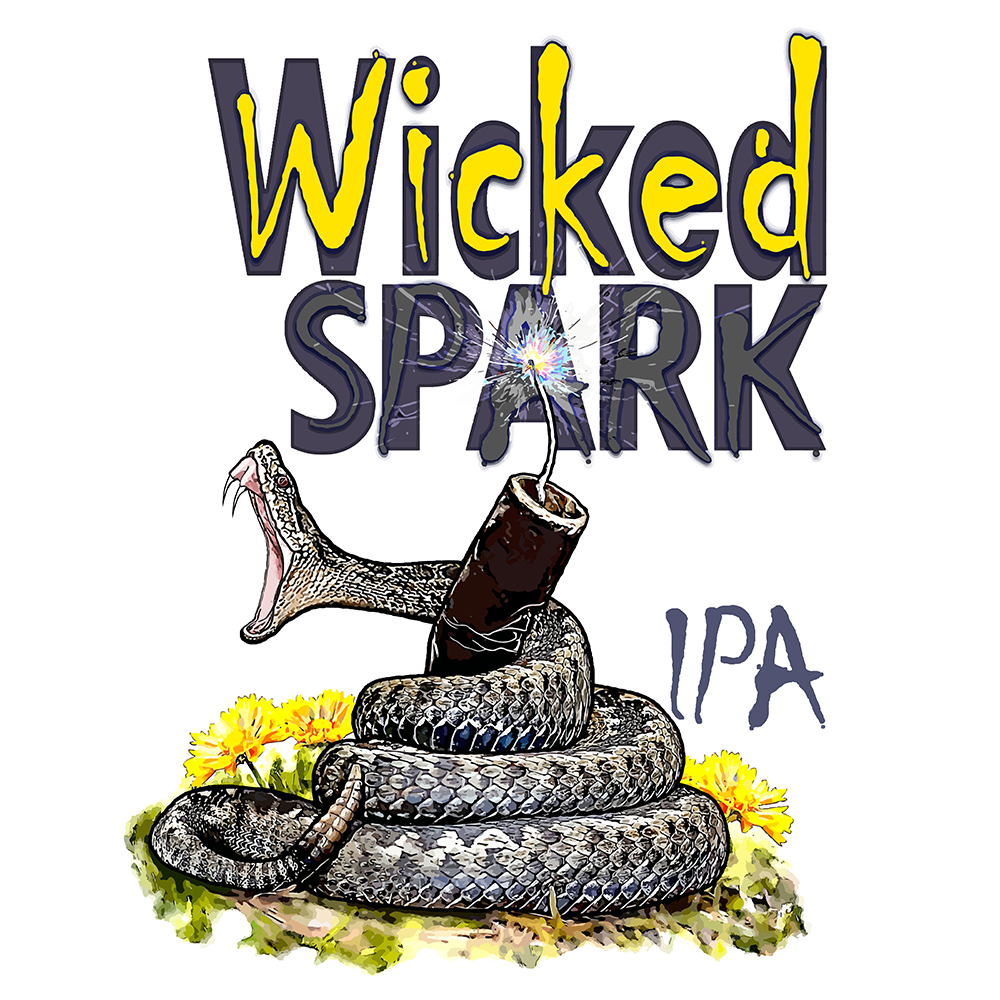 Wicked Spark IPA
Session IPA
ABV: 5.3% IBU: 63
The Wicked Spark is a top-notch Session IPA, full of delicious hop flavors and aromas. Its soft malt backbone combines with the tropical fruit flavors from the Citra hops to create a wickedly flavorful beer.
________________________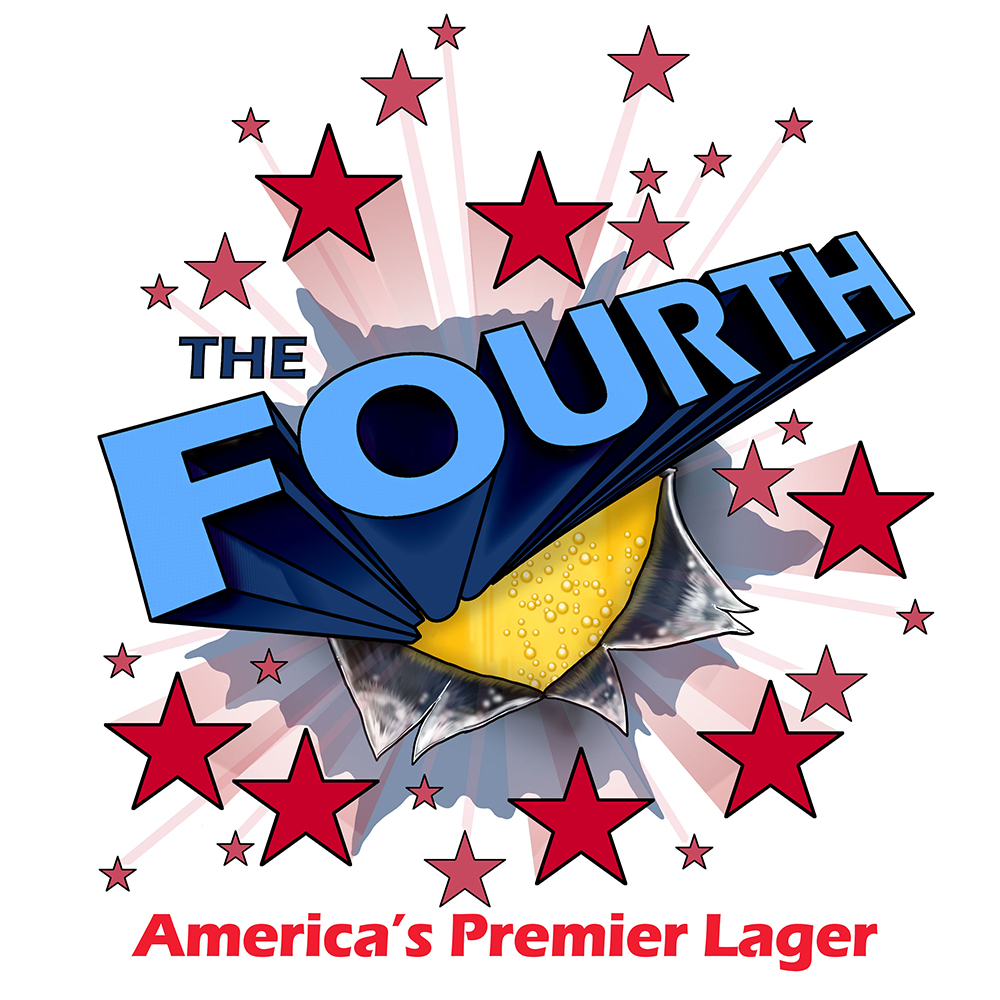 The FOURTH
American Light Lager
ABV: 5.2% IBU: 12
The FOURTH can be celebrated not only on the 4th of July but year-round. Be it the fourth day of a month, four o'clock in the afternoon, or just "FOUR" the heck of it! This easy-drinking, crisp lager is made with barley, hops, and of course, corn.
________________________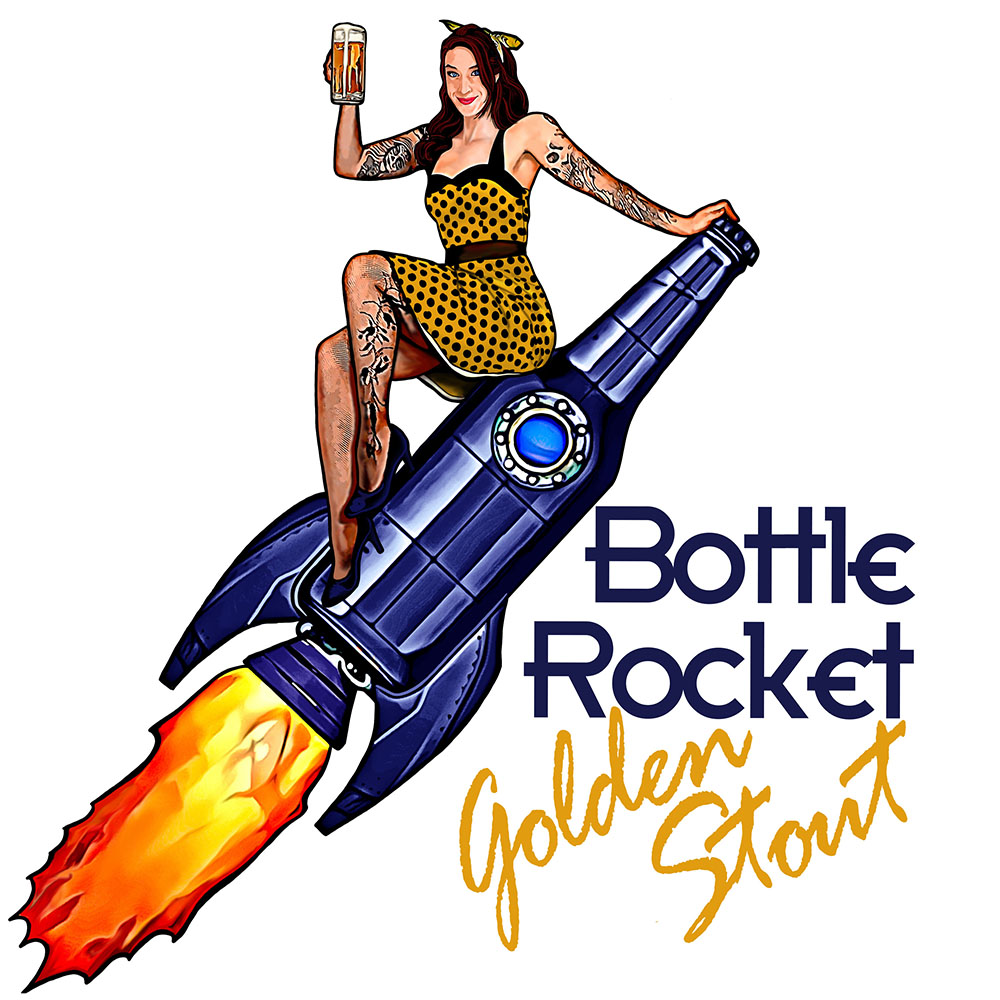 Bottle Rocket Golden Stout
Blonde Coffee Stout
ABV: 6.2% IBU: 29
Deceiving in color, this contradiction of a stout is brewed with light, biscuit malt and Indian Malabar coffee to give it a rich flavor and golden hue… a perfect reflection of Nebraska's golden summers and stout winters.
________________________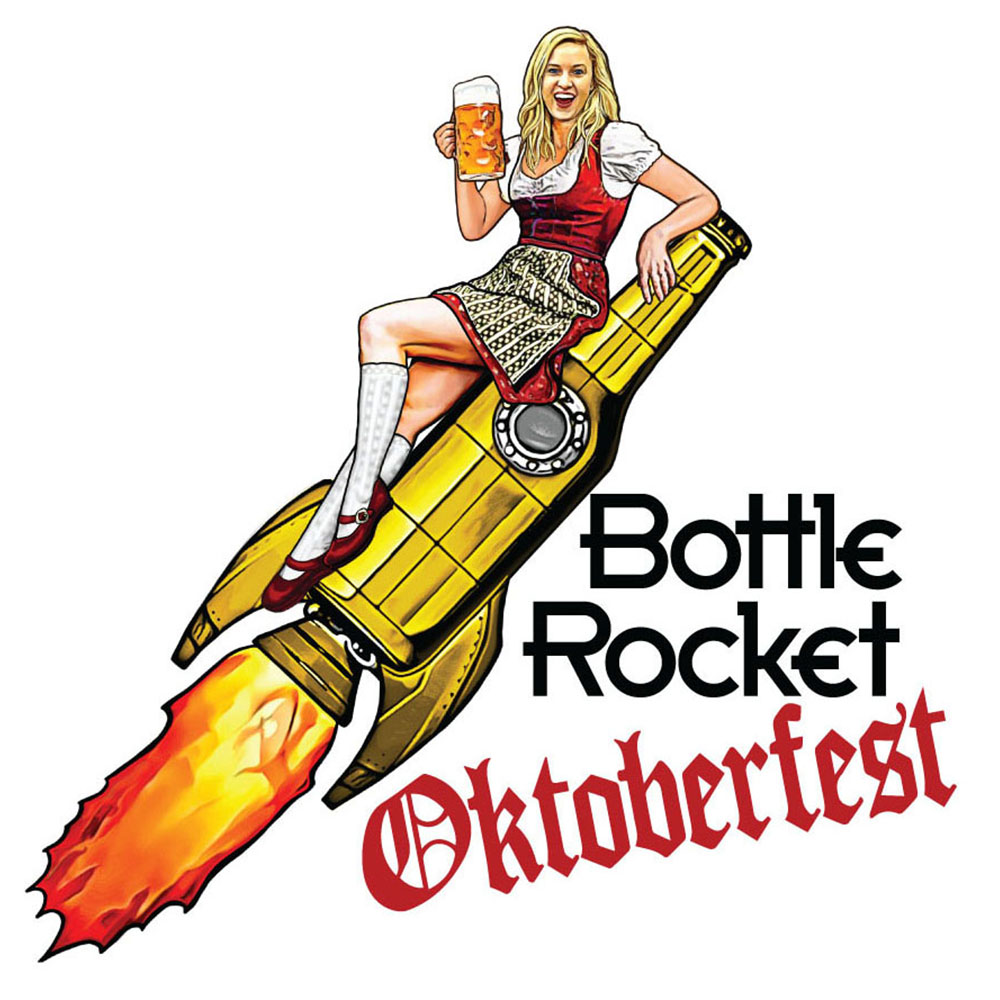 Bottle Rocket Oktoberfest
(Seasonal)
Märzen Lager
ABV: 7.7% IBU: 18
Much like Oktoberfest is a celebration of love, this beer is a labor of love. It's made with over a ton of German malt and flavored with traditional Hallertau hops. The beer has a delicious, malt-forward taste with a soft-mouth feel. This is annually brewed for our own Oktoberfest celebration.
________________________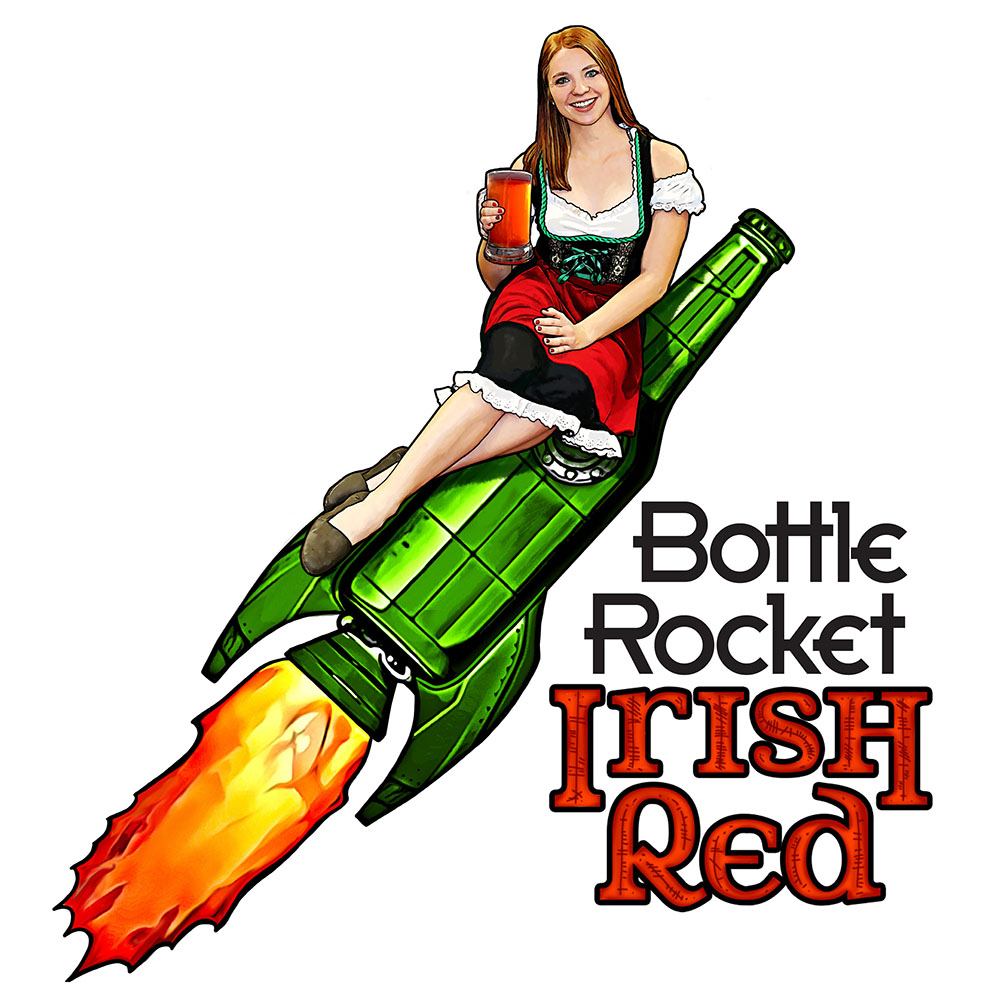 Bottle Rocket Irish Red
(Seasonal)
Irish Red Ale
ABV: 6.5% IBU: 27
The Irish Red presents a malty, smooth and roasted flavor. It has light raisin and dried fruit taste attributes to it with little bitterness. This traditional style has outstanding drinkability.
________________________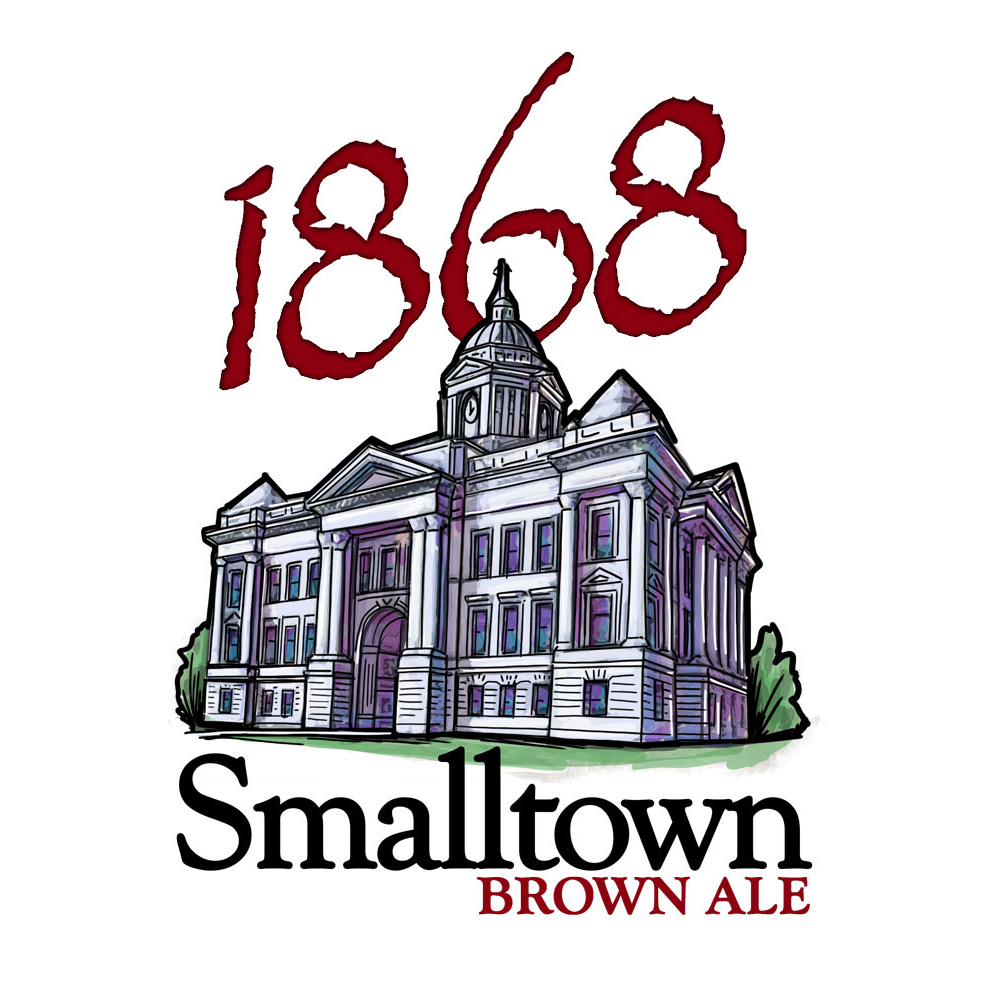 1868 Smalltown
Brown Ale
ABV: 5.2% IBU: 28
This traditional brown ale combines six different malted grains to create a rich, nutty flavor with a roasted caramel finish and smooth presentation. This beer is made in honor of small towns everywhere.
________________________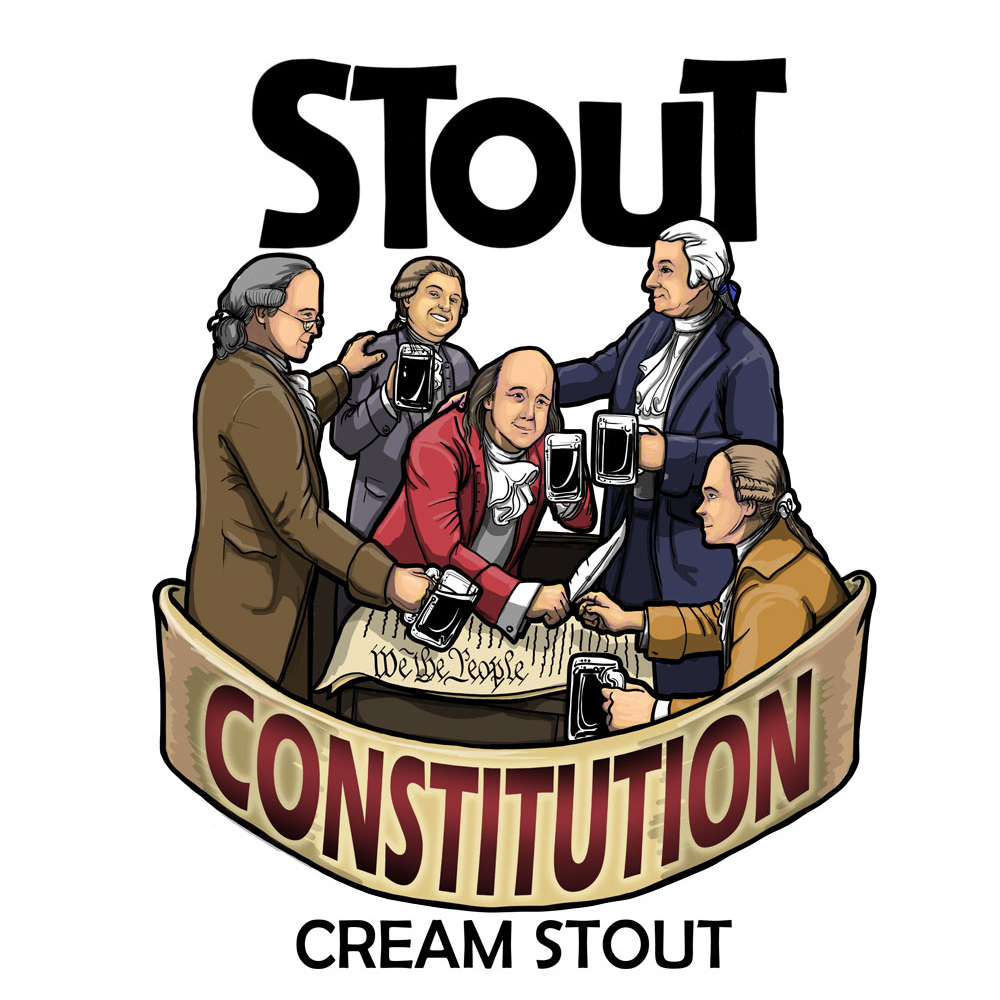 Stout Constitution
Cream Stout
ABV: 5.1% IBU: 29
The Stout Constitution is a full-bodied, silky smooth cream stout – not the typical stout you have to chew. The roasted malts produce the chocolate and coffee flavors and the dark hue. Lactose sugars give it a residual sweetness offsetting the bitterness created by the roasted malts.
________________________
Distribution
We distribute across the state of Nebraska. If you want to request our beer at a new location, use the contact page to let us know.
Our distribution partners across Nebraska include:
Premier Midwest – Omaha areas
K&Z Distribution – Lincoln & Southeast Nebraska
Nebraskaland Distributors – South Central Nebraska
Coors of North Platte – Southwest Nebraska
Heartland/Adamson Distribution – Northern Nebraska
Dietrich Distributing Company – Nebraska Panhandle
** In Seward county we self distribute
Production
Our large production facility is located on the same block as our taproom in downtown Seward. The building features a 15-barrel brewhouse with eight 30-barrel uni-tank fermentors. For finished products, we use 1/2 and 1/6 barrel kegs and a 12-ounce canning system.