About Bottle Rocket Brewing
Come visit us! We are located in downtown Seward, Nebraska's Fourth of July City
Founded in 2014, we have been selling great-tasting beer since we opened for business in October 2015.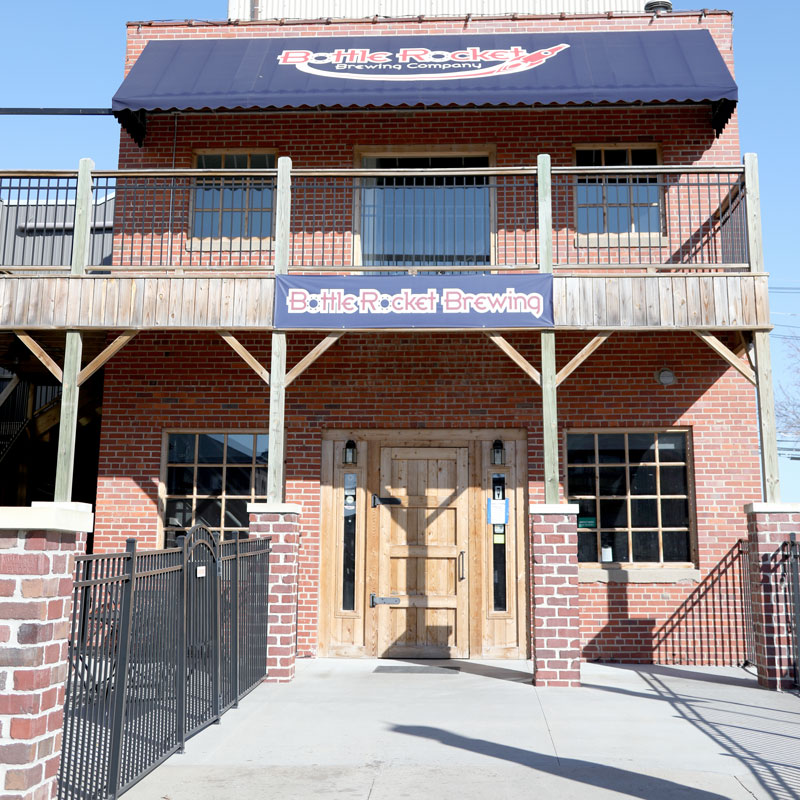 Bottle Rocket Boys
Gerald Homp initiated the idea of starting a brewery in Seward, Nebraska in 2014. After asking around, he ended up talking with Jason Berry. The two of them brought much to the table, Gerald with marketing and relationship building, Jason with advertising and business development backgrounds. Together they found brewmaster Ryan Koch, a structural engineer by trade who at the time had over a decade of brewing experience.
Brewing Beer
Using a small, one-barrel brewing system and two-barrel fermenting tanks in the basement of the mill, brewmaster Ryan Koch began experimenting with and fine-tuning beers for our local Seward community. We started with traditional ales such as WIT beers, cream stouts, browns, and various kinds of wheat beers. We gradually added pale ales and IPAs to our selection as the community began trying different styles. We now have twelve taps active with a wide variety of ales and lagers to choose from.
Our Buildings
Our taproom and initial brewing equipment are located in the Campbell's Seed Company Mill, a historical building erected in 1947. The mill remained in full operation until 1987 when it was converted into a flower shop called the Flower Mill. When we acquired it in the fall of 2014, the building was in mint condition and still boasted all the original mill works.
To meet the needs of the Seward community, an addition was built on to the back of the building in 2016 that includes a large event space. In addition to this room, we also have a beer garden, a loft, and the upstairs room of the old mill, all of which can be rented for your event. Visit our rental page to learn more.
In 2019 we gained access to the old Seward Youth building only a few yards away and converted it into our large-scale production and canning facility. The new equipment can brew 15 barrels and ferment in 30 barrel uni-tanks. The facility also features a large RO system that maintains 3,000 gallons of clean water at all times, a large 26'x16′ drive-in beer cooler, and our very own canning line. The beer produced here is shipped across the state of Nebraska. Visit our beer page to find a location near you.